Good growth despite a challenging year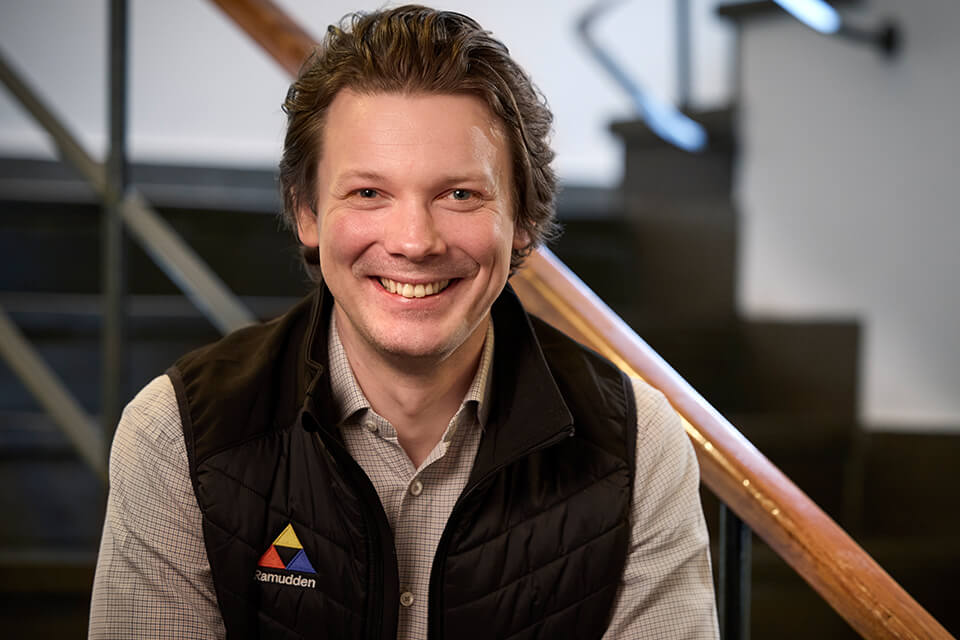 Like other companies, our business has been affected by a year in which many factors were uncertain. Nevertheless, we have continued to deliver in markets both old and new, and we have done so with panache. I am genuinely proud of the work that our organisation does every day.

I took over as CEO of Ramudden in the Nordics, Baltics and Canada in the summer of 2022. Hans-Olov Blom, Ramudden founder and former CEO, was appointed Group CEO for the Ramudden Global companies at the same time. This is a well-managed company, and my job now is to manage this valuable legacy.

So what are my ambitions for the future? Of course, I want to preserve the mentality, the very spirit of Ramudden: local entrepreneurship, putting customers first, teamwork, and a strong drive to move forward. At the same time, we need to adapt the company to a new, larger size. We now operate in more markets, have more employees and are becoming an increasingly important player in the industry itself. This also requires us to do things differently, and to take more responsibility for our long-term sustainability.
Several important acquisitions
So what are the highlights of the year? Apart from seeing very good growth, supplying more materials and services from our depots, we have opened four new depots in Sweden and Finland. We have acquired Halleskog & Hansson AB in Sweden, and in Norway we have strengthened our capacity when it comes to training with the acquisition of Opplæring Vest and Kursbyen.no.

We have also established operations in Denmark during the year. I am also excited about our 350 new colleagues in Canada, where we have made acquisitions that enhance our capabilities when it comes to digitalisation of work sites. I also see our growth as exporting our safety mindset, and our approach to a safe work environment at sites.
At the heart of societal development
We are at the heart of societal development, and it is now clear that more stringent sustainability requirements are being applied everywhere. Our clients are increasingly affected by national climate targets and new legislation, which gives them more of an interest in circular solutions, resource efficiency and renting instead of owning. This is driving us to improve the safety, service and efficiency of our offerings.

Digitalisation is a key success factor in this regard; new solutions are helping us to increase safety in the workplace, extend product lifespan and reduce CO2 emissions related to inspections.
ISO certifications and a new sustainability manager
We renewed our certificates for the ISO 9001 quality standard, ISO 14001 environmental standard and ISO 45001 health and safety standard during the year. We also finalised the recruitment of a Group Head of ESG for Ramudden Global as a whole at the end of 2022. This person will help to increase the amount of sustainability work we do in all markets.

Looking to the future, our focus is on continuing to develop the industry towards even safer and more sustainable solutions. We will also broaden our skills base and nurture our existing staff. Ultimately, I hope that everyone, like me, will take pride in the fact that at Ramudden, we make sure that people return home unharmed every day.

Morten Finslo, Group CEO of Ramudden - 2022

. . . . . . . . . .

CEO's comments 2021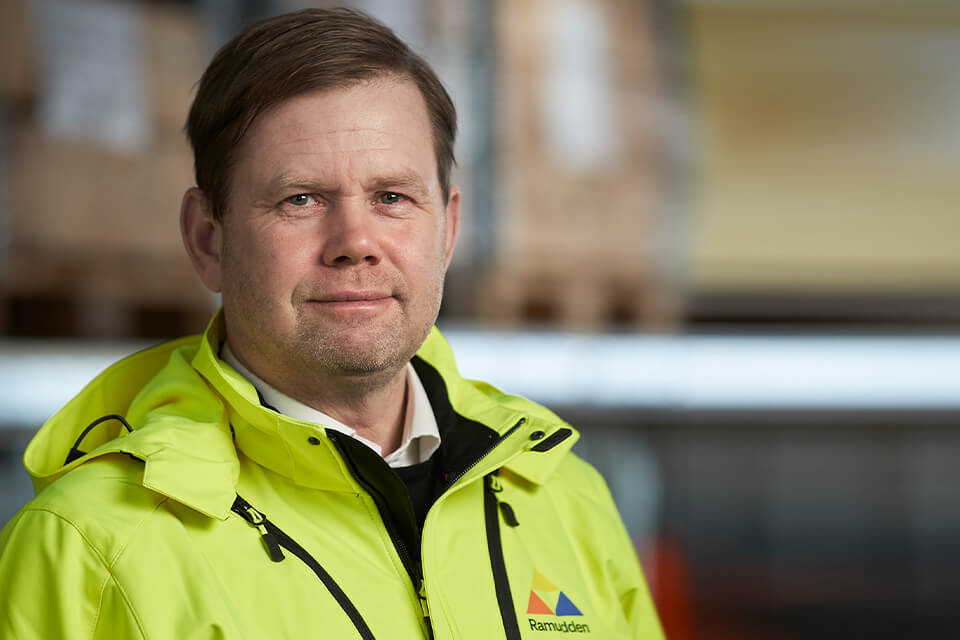 Despite the pandemic, 2021 was our best year ever. So not only have we maintained momentum, we have also grown geographically and increased our profitability. In parallel, we have continued to structure and drive our sustainability work. "Proud" barely scratches the surface!

I see this year's results as proof that Ramudden's business concept holds up even when times are tough. We exist to make sure that everyone at a site feels safe and can focus on their work, and that everyone passing through the site with cars, bikes and prams can do so smoothly and safely. This has been Ramudden's starting point since the beginning.
During the year, we have worked hard to transform our culture and ways of working into more structured roles, procedures and processes across the company. This has become necessary as we grow, not least following our large merger in 2020. In line with this, we have implemented a major branding project in which we have tried to capture what we call the Ramudden spirit, and worked on an "employee value proposition" to give our employees a clear set of values.
Sustainability high on the agenda
Besides harmonising processes and introducing support systems, this year's work is all about sustainability issues moving right up the agenda. The creation of the ESG Centre of Excellence, with representatives from all countries represented in the WZS Group, has given us a whole new level of ambition to drive our work forward. This includes, for example, development of group-wide governance, creation of sustainability key performance indicators and reporting in this area.
Digitalisation of work sites
An important part of our offering involves digitalisation of work sites. Our industry is generally still analogue, but we are now driving an urgent change by means of sensors and connected technologies.
In 2021, for example, we have launched smart batteries that help to make work sites safer and reduce transport. We also have connected message signs to facilitate efficient traffic flows, and have started real-time digital reporting from work sites. We are the market leader in this area, and we are seeing a lot of interest from customers.
During the year, we also launched the SVEA traffic barrier, part of an intelligent and safe product system for complex urban environments. Our offering must always be in line with – or ideally ahead of – the evolution of society. We are now looking at solutions for cyclists and pedestrians in order to deal with new behaviours in society.
An important social stakeholder
For me, safety is something that concerns everyone. Besides being involved in driving forward key industry issues, the year has provided further evidence that Ramudden is now seen as a key stakeholder in an ever-increasing context.
For example, we worked as a partner to the Swedish Police Authority and managed safety solutions in connection with the Holocaust Conference in Malmö. We also delivered a critical project in Finland, ensuring safety around a refinery – at the time, the largest construction site in the country.
The increasing trust being placed in Ramudden is due to the fact that we have matured as an organisation. When we provide safety, customers can rest assured that they are getting a partner who thinks one step ahead and goes the extra mile. The secret? The efforts of our staff, who have been particularly heroic in another pandemic year. To highlight their important work, we have introduced the WZS Award, which is presented to depots that excel in work site safety.
Increased governance empowers us
Governance is creating faster progress on our journey of growth. We made several important acquisitions during the year, including Trafino Oy and Westers Group TA AB, which together add new elements to our customer offering. We have also established a presence in Canada, which is a very exciting step.
Our journey ahead is all about leveraging the power of the Group's strengths – but without losing our genuine consideration and focus on safety right down to the last detail.
Hans-Olov Blom, Group CEO of Ramudden - 2021
. . . . . . . . . .


CEO's comments 2020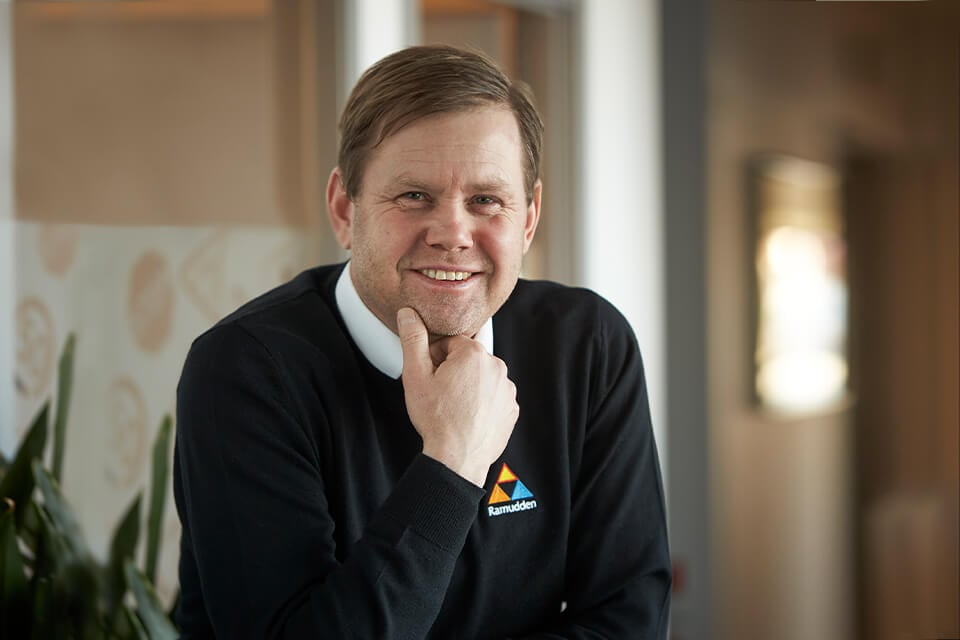 Ramudden has consistently tried to maintain its focus on ordinary operations during the pandemic. We have followed all the rules, advice and recommendations from the public authorities without taking any shortcuts. At the same time, we have tried to continue as normal as far as possible. Our hard work meant that we also finished the year with higher profit and sales than in the previous year.
Our business model is inherently based on sustainability as we use resources efficiently throughout their useful lives, and also in the respect that we contribute to safer work sites. Our company aim is to make sure that everyone comes home safe and well every day. Consequently, we do our best to put safety issues on the agenda in all arenas. This naturally also means that our own employees' knowledge of safety is a top priority. During the year, we invested heavily in internal training, which helps enhance safety out at the work sites.
Rapid digital transition
To their great advantage, our educators have switched to digital teaching methods both internally and with customers. It is clear that new technical aids and web-based training will remain a natural part of how we provide training after the pandemic. There are, of course, occasions on which traditional teaching works better, but I am convinced that this is here to stay, and it will also contribute to less travel and thus a lower carbon footprint.
Digitisation is also an important tool for improving safety. Our Group includes the British company HRS, which develops smart digital solutions and equipment that can increase safety, for example by warning road users about traffic conditions in real time. Our product development also uses other new technologies. In 2020, for example, we developed a remote-controlled barrier that replaces traffic controllers on the road, where it would be risky for people to work. We also use solutions in which connected sensors in the equipment report on whether everything is correctly installed in the work site.

Another example of smart new technology is our 3D-visualised traffic management plans. They help us optimise our solutions with our customers in the planning phase so that they both create a safe environment and maintain traffic flows as far as possible. We are seeing a general increase in interest in safety among our customers and greater desire to involve us at an early stage. This is always better in terms of costs, safety and traffic flow.
Focus on reduced emissions
In respect of the environment, Ramudden works to reduce its climate impact. Our owner Triton is involved in a quality-assured initiative for climate compensation for our carbon dioxide emissions. As the industry leader, we also take action directly in our own operations, for example by increasing our use of fossil-free fuel. To this end, we ordered six electric trucks during the year. They will be used to deliver equipment in metropolitan regions in Sweden. Electrical vehicles are now also part of our fleet in Norway.
Following a corporate merger in December 2020, Ramudden and its fellow subsidiaries now cover ten European countries. This entails new opportunities to see and learn from how things are done in other parts of Europe. We can study best practice from large parts of the continent, which will allow us to develop further in terms of both sustainability and operations in general. As we continue to advance, we will focus on exploiting all the advantages of the new Group to the maximum.
2020 was a difficult year for many, but we showed that Ramudden's business model is correct and that we are able to maintain our focus on greater work site safety even in times of trouble.
Hans-Olov Blom, Group CEO of Ramudden - 2020