Smart Zone - The connected worksite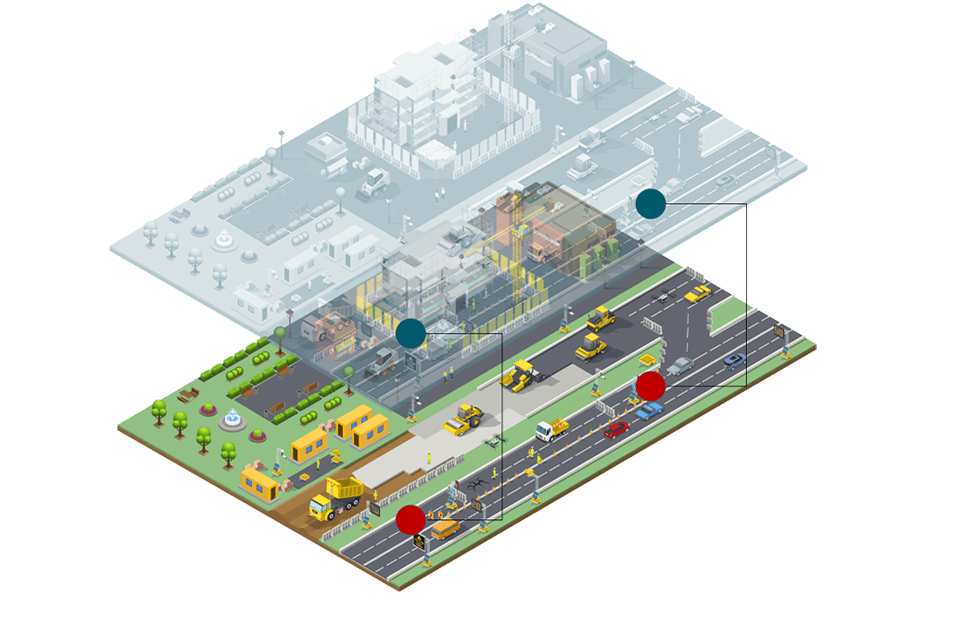 Our vision is a fully digital worksite that is monitored in real time but where the monitoring is entirely digital – resulting in what we call a "twin".
The most recent development focuses on the concept of a smart digital work site. It not only delivers increased safety and greater sustainability, but also fewer production stoppages and superior cost-effectiveness.
• Increased safety – The smart work zone allows us to proactively detect safety risks and ensure that all devices always operate as they should.
• Better service – We can provide you with better service by minimizing our response times to alerts. In other words, we are quick to arrive on site and can deal with the device or devices that need attention.
• Reduced costs – Because we control the work zone from our central platform (our "twin"), we can optimize supervision of all devices in a way that is cost-effective for you.
• Focus on sustainability – We maintain a strong focus on sustainability in everything we do. The smart work zone is no exception – on the contrary. It means we do not have to transport items unnecessarily, at the same time as ensuring a longer service life of the devices in the work zone.
• Reporting and follow-up – An important part of constantly improving our service is reporting and follow-up. In this, we focus particularly on safety and sustainability. We keep a check on average speed, device battery status, whether there have been any incidents and the extent to which CO2 emissions have fallen.
Work Zone Safety
Since 2020, we have been part of a larger group, the Work Zone Safety Group, which also includes the company Highway Resource Solutions (HRS). HRS is a leading company in the provision of digital solutions for roadworks sites.
Our close cooperation with HRS brings us greater opportunities to promote digital development. We continue to invest in digital solutions to provide you with safer and more cost-effective solutions.
Your digital work zone
Already as of now we can offer you a number of solutions which we can monitor from a central location. These include Smart Batteries capable of powering speed monitoring systems, VMS signs or vehicles for real-time information to road users, and traffic lights.
Other systems are under development: Digitiser, Exit Warning System and Digitiser SVEA barrier.
Related links